We are the UK's Aluminium Extrusion Experts
With more than 40 years' experience, Smart Engineered Solutions is the UK's largest, most modern and efficient manufacturer of extruded aluminium profiles.
Smart Extrusion
Experts in extrusion, our four state-of-the-art presses combine to deliver an annual production capacity of more than 35,000 tonnes of extruded aluminium.
Our Exacting Standards
Quality is at the heart of our operations. From responsibly sourcing aluminium through to extrusion, machining, finishing, and delivery – we control quality at every stage.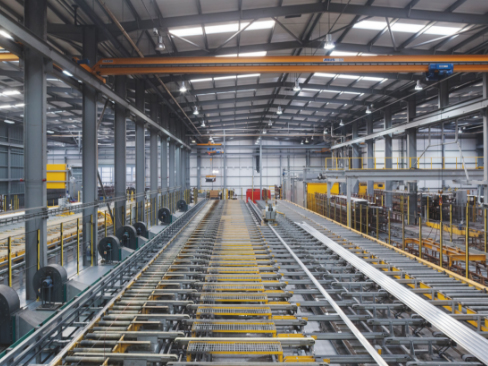 Our 15,000m2 Site Expansion
Through continued investment in our plant, people and processes, we are the largest and most efficient single-site extrusion plant in the UK.
Sectors
Road Transport
We are a major supplier to the road transport industry, providing a wide range of aluminium extrusions in various alloys for chassis, cabs and trailers in lengths up to 13.8 metres.
Sectors
Daylight Systems
We are a leading supplier of roof light, conservatory roofing, lanterns and other daylight solutions. Our customers range from suppliers of domestic glass roof systems to commercial and industrial daylight systems.
Sectors
Decking
Aluminium decking is becoming increasingly popular, thanks to its aesthetics and fire-resistant properties. We manufacture profiles for various systems and can apply anti-slip paint solutions.
Sectors
Engineering, Fabrication and Machining
We supply many of the UK's leading aluminium extrusion fabrication and machining companies. We also have our own range of equipment, including three- and four-axis CNC machining centres.
Sector
Fenestration
Smart Engineered Solutions is the UK's leading extruder of aluminium profiles for the fenestration industry, including the supply of window and door systems, in a wide range of colours, to Smart Architectural Aluminium.
The Highest Quality Standards
The first company of its kind to be awarded 5 BSI standards
Operating extensive test regimes, we are committed to consistently achieving high standards of quality and were the UK's first systems company to achieve five separate ISO standards.
Sustainability
We're committed to a sustainable future
Smart is fully committed to achieving a greener environment and so every aspect of our activities, from the procurement of raw materials to the delivery of finished goods, is conducted in accordance with sound environmental practices and in line with UK and EU environmental regulations and legislation.
Over the years, we have come to both appreciate and rely on the service we receive from Smart. The quality of the extrusions we receive is always of the highest standard, but it's the quality of the service and support that really sets Smart apart. Working together, our teams communicate regularly to make sure that all our requirements are met, from product design right through to delivery.
I have worked with the Smart team for over 13 years and am always impressed with their commitment to go the extra mile. We have a great working relationship with Smart and the team works tirelessly to meet our needs – which from time to time can be quite demanding! Flexibility, reliability and great communications are the hallmarks of the service we consistently receive.